The Creator Economy has grown dramatically over the last few years. More than 50 million people globally consider themselves content creators, and you can see the appeal. A hobby that many started in their bedrooms has now become a lucrative career.
According to a 2022 report by Influencer Marketing Hub and Refersion, the influencer market grew from $1.7 billion in 2016 to $9.7 billion in 2020. That is projected to reach $16.4 billion by the end of 2022, and this is only set to increase further as brands continue to invest heavily in influencer marketing.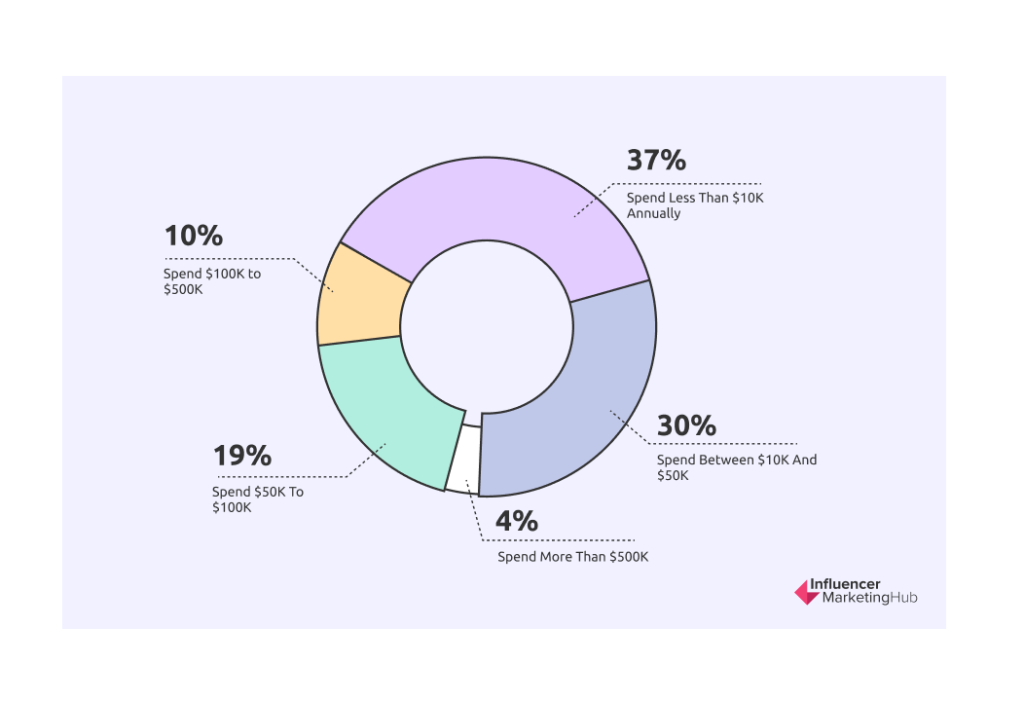 While some people believe that influencer marketing is just a fad or that the demise of influencers is coming, the data shows the opposite. Influencer Marketing Hub found that more than 75% of brand marketers intend to dedicate a budget to influencer marketing in 2022. Of that, 68% of respondents intend to increase their budget over the next 12 months while only 3% intended to decrease their budgets.
There's no denying the power of influencer marketing in today's digital age.
When it come to influencer marketing something that comes up time and time again is authenticity. It's a buzzword that is thrown around within the creator community, with experts advising influencers to 'be themselves' and 'be transparent'. The recommendation is that influencers need to be both aspirational and relatable in order to succeed.
However, the growth of digital has seen a new breed of influencer emerge. Influencers that only exist virtually. These influencers cannot inherently be authentic because they themselves are not real. Is this the future of influencer marketing?
What is a virtual influencer?
Virtual influencers look and act as real people online but as the name suggests, these influencers do not actually exist. They aren't real or human. Instead they are generated by computers and exist virtually within a curated digital world.
They are created by tech-savvy digital teams who have crafted them from scratch – everything from their physical appearance to their fictional personalities. Because of the nature of their creation, they are often referred to as CGI (computer-generated imagery) or AI (artificially intelligent) influencers.
Although the concept of virtual influencers started in 2016, it isn't exactly new. We grew up with cartoons and characters like Mickey Mouse, Tony the Tiger and Jessica Rabbit. We also had the Gorillaz, an English virtual band created by Damon Albarn and Jamie Hewlett. The four animated members of the Gorillaz appeared on our TV screens. They won awards, performed live tours and appeared on MTV Cribs as digital creations.
Virtual influencers really started gaining traction when they popped up on Instagram in 2018. One of the first to appear was Miquela.
The most popular virtual influencers
Lil Miquela
Miquela Sousa is a self-proclaimed 19-year-old robot living in LA. The Brazilian-American model was created in 2016 by Brud, a Los Angeles-based startup led by Trevor McFedries and Sara DeCou. In January 2019, TechCrunch reported that Brud had closed a $125 million investment round sparking conversation that virtual influencers are the future.
Although hard to believe, people are invested in Miquela's life. Miquela amassed over one million followers on Instagram by April 2018 and over 3 million as of April 2022. She's also active on Twitter, Tumblr, YouTube and TikTok but it doesn't stop there.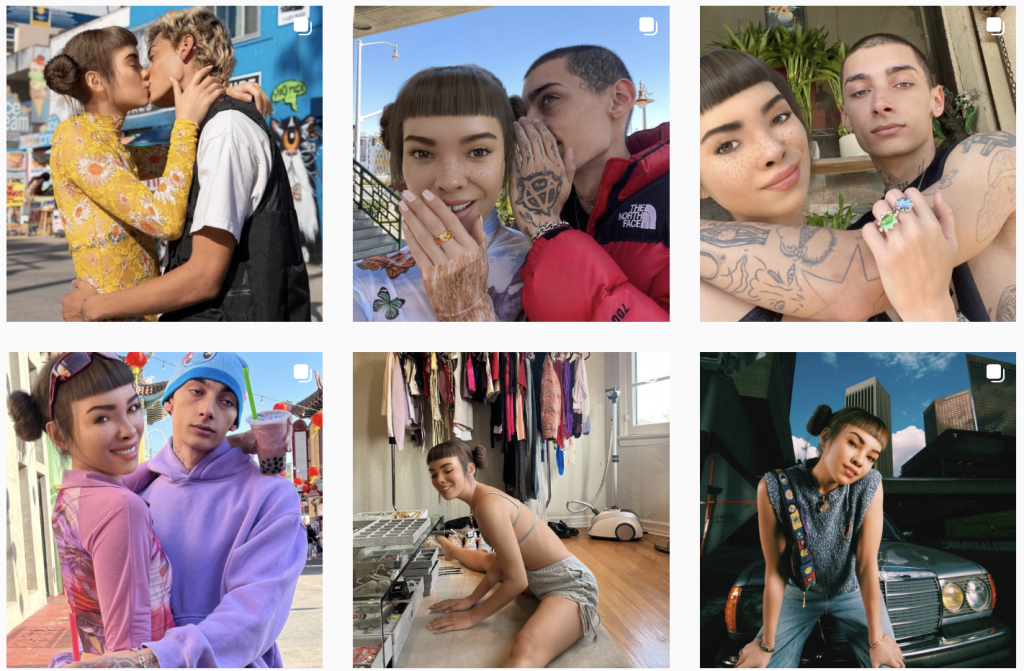 Miquela has worked with the likes of Calvin Klein, Prada and Nike. She has been featured in a number of different publications including Vogue, Business of Fashion and Nylon, and pictured with Millie Bobby Brown, Bella Hadid and other celebrities. Miquela was even named one of Time's 25 most influential people in June 2018.
Bermuda
Bermuda is an LA-based "It Girl" and aspiring musician, who wants to inspire young entrepreneurs in the tech and beauty sector. We first came across her in April 2018 when she hacked Miquela's account. Bermuda replaced photos of Miquela with photos of herself. However, it turned out that Miquela and Bermuda were both created by the same team.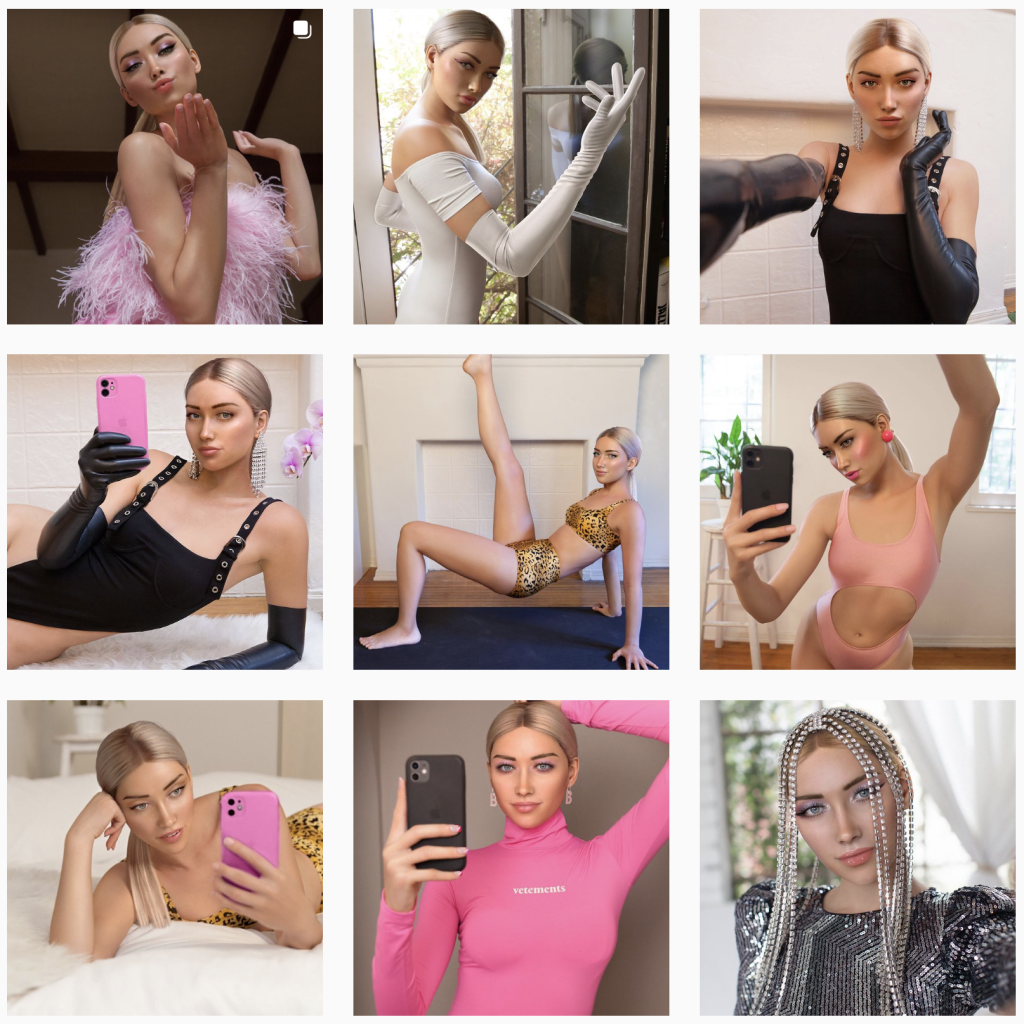 Miquela and Bermuda had an on-going feud before finally becoming friends. Yes, virtual influencers have friends and foes. They also fall in and out of love. Bermuda's ex-boyfriend Blawko, another virtual influencer, shared their breakup story in a YouTube video which has multiple comments on it thanking him for being "so real" and honest about his history with Bermuda.
While Miquela is the most popular virtual influencer, Bermuda often gets referred to as the most controversial. She's described as problematic and trashy. She also regularly got called out for being a Trump supporter – though she has apparently changed her views on that.
Shudu
Shudu Gram is a South African model in her 20s who started her Instagram account in April 2017. She describes herself as "the world's first digital supermodel" and has worked with the likes of Cosmopolitan, Vogue, Fenty and Balmain.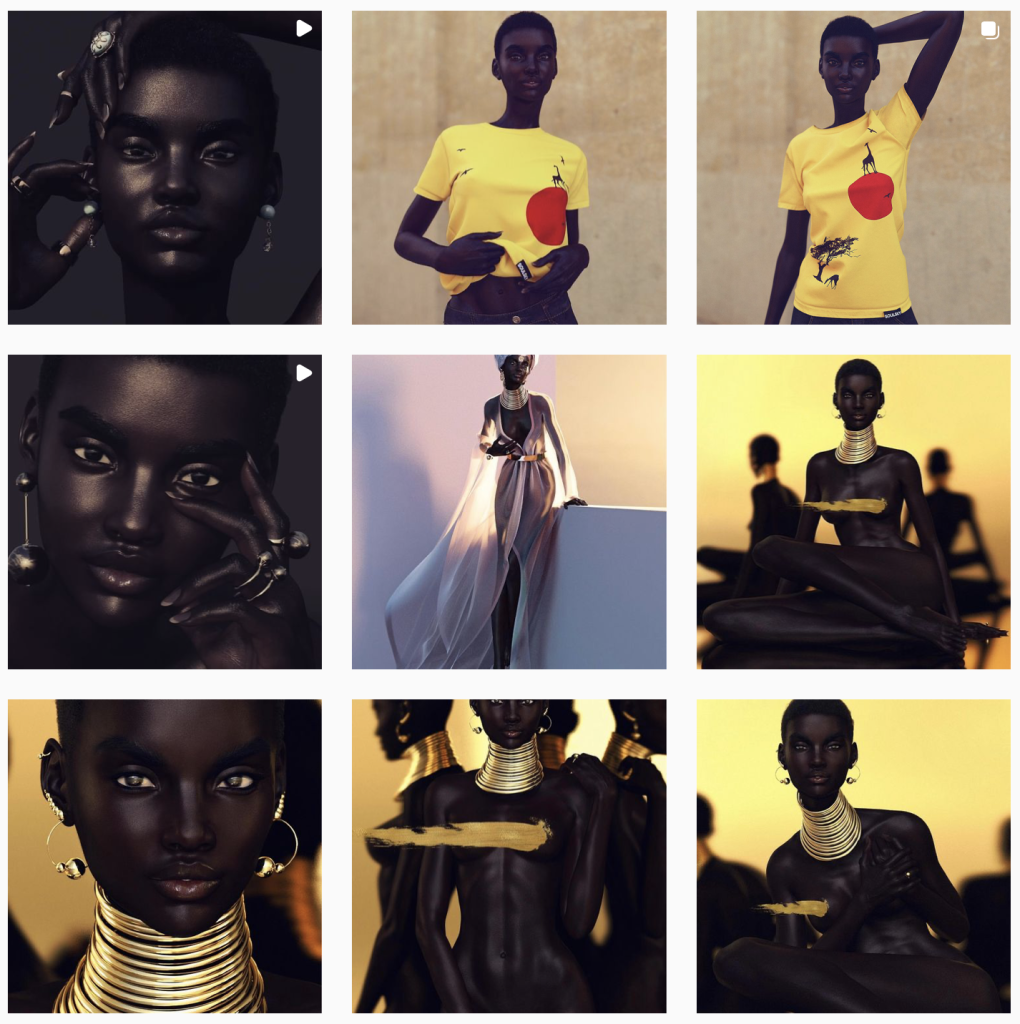 Described as the "Princess of South Africa", Shudu quickly gained popularity on Instagram as viewers expressed awe at her beauty and her page went viral with fans using the #BlackIsBeautiful hashtag.
However, this virtual influencer caused a lot of controversy as Shudu was in fact created by a white man, a fashion photographer from the UK called Cameron-James Wilson. While some call him out for cultural appropriation and racism, others have praised him for creating a wider diversity of virtual influencers, which they believe will push the industry to become more inclusive.
Why brands are working with virtual influencers
The major appeal of virtual influencers is that they can be moulded more easily to fit the needs of the brand. Brands have more flexibility and control over content with virtual influencers, and less risk of them making mistakes or drawing negative attention. It also signals that your brand is on top of the latest trends.
The fashion and tech industries have taken to virtual influencers like no other. Lil Miquela attended the Prada FW18/19 show in Milan, sharing her day on the brand's Instagram Story. That same year, Shudu Gram was announced as part of Balmain's virtual model army. Prada have even created their own virtual model to promote their perfume line. And in 2020, Burberry introduced a CGI digital double of model Kendall Jenner for their summer collection.
When it comes to the tech-world, virtual influencers exist beyond human possibilities. The fact that they are themselves digitally created makes them a great fit for tech brands. Lil Miquela featured in Samsung's 2019 #TeamGalaxy campaign promoting the idea that just like Miquela, a Samsung phone can offer limitless possibilities.
The controversy surrounding virtual influencers
As we've briefly discussed above, one of the major issues with virtual influencers is that they can be created by anyone and designed in any way. Should Cameron-James be allowed to profit from Shudu? Should brands use Shudu to promote their products and benefit from seeming diverse? These are questions that have been raised.
Can we trust virtual influencers in the same way? It seems so, as research conducted by UK's Mindshare Futures revealed that 54% of all UK consumers find visual entities appealing on some level.
Human influencers are often called out for supporting multiple brands, being dubbed "sell-outs" for their Instagram Feeds being heavily sponsored. But how do virtual influencers compare in this regard.
And while human influencers are slated for their unrealistic lifestyles, virtual influencers also sell an idyllic picture-perfect one. They've been crafted by a team of designers, does this set another layer of unrealistic standards that is already so prevalent on social media?
Conclusion
Influencers initially gained their popularity by being authentic and relatable. Will virtual influencers be able to amass the same kind of loyal following without that personal connection?
Will Robots Take My Job show a 93% risk of modelling being replaced by automation, the same can likely be said for the influencer industry. However virtual humans describe virtual influencers as the influencers of tomorrow and as we move into Web3, I'm inclined to agree.
Are virtual influencers the future or is it a fad? Let me know in the comments below or join me on Instagram to find out more about content creation.
Recommended reading: